The Batte of the Washita (Enc. of Indian wars)
THE BATTLE OF THE WASHITA
November 27, 1868

General Custer's 7th cavalry against Black Kettle's Cheyennes


Source: Gregory F. Michno, ENCYCLOPEDIA of Indian Wars 1850-1890, pages 226-227
---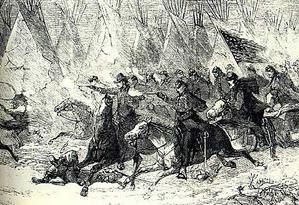 "On November 12, 1868 , 11 companies of the 7th Cavalry under Lt. Col. George A. Custer, 3 companies of the 3rd Infantry, 1 of the 5th Infantry, 1 of the 38th Infantry, and about 450 wagons set out from Fort Dodgefor Indian territory to seek out hostile Indians. Across a snow-covered landscape Custer followed Indian trails to a 50-lodge Cheyenne village on the banks of the Washita River. Early on the frigid morning of 27 November, nearly 700 men of the 7th Cavalryprepared to attack. To the tune of "Garry Owen", Custer charged into the village with his four battalions: Maj. Joel Elliot with Companies G, H and M came in from the northeast; Capt. William Thompson with Companies B and F, from the south; Lt. John M. Johnson with E and I attacked from the southwest; and Custer with A, C, D and K, from the west.

The troops burst into the village, cutting down the Indians as they fled their lodges. The soldiers were also hit: one captain was killed by a bullet in the chest, and another was severely wounded in the abdomen. Maj. Elliot cut loose with 18 men of various companies to chase some Indianswho had escaped to the east, reportedly calling out, "Here goes for a brevet or a coffin".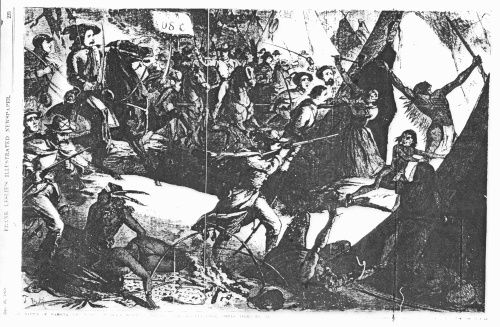 Elliot was cut off and his party killed. During the battle, the Cheyennes killed two of four white captives. It is uncertain whether Custer was able to rescue the other two.

After soldiers killed Chiefs Black Kettle and Little Rock, Custer captured the camp, burned tipis and supplies, and shot 875 Indian ponies. As more Indians gathered from other camps downriver, Custer made a feint downstream, sending them back to protect their villages.

Doubling back in the gathering darkness, Custer returned to his supply train and headed home, reaching Camp supply on 1 December. Custer captured 53 women and children during the mission and reported 103 Indians killed, though the Cheyennes claimed it was half that number.

The army lost 21, with 16 wounded."