"Little Big Man"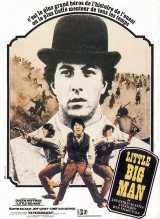 Movie by Arthur Penn, 1970

With Dustin Hoffmann, Faye Dunaway

The movie was created to support the communist dictatorship in Vietnam against the United States of America during the Vietnam war. Indians are depicted as brave patriots, against bloodythirsty Americans, led by a fool, General Custer.
The movie is based on a much more funny and interesting novel by Thomas Berger.

__

STORY
The story is presented as dying centenarian Jack Crabb recalls several facets of his long and unusual life for an on screen biographer (William Hickey), including being a gunslinger, homesteader, snake-oil salesman, scout for General George Custer, witness and survivor of the Battle of the Little Bighorn, and sidekick to Wild Bill Hickok.
The central theme, however, is his adoption by the Cheyenne, enabling him to view both the white and Native American cultures of the 19th century with equal puzzlement.
Young Jack and his older sister Caroline (Carole Androsky) survived a massacre of his wagon train that included both his parents. He later found out the Pawnee were responsible for that, and says, "I ain't had no use for 'em since." He is raised by the Cheyenne leader Old Lodge Skins (Chief Dan George) and taught the Cheyenne language. (This is denoted on screen whenever Jack seems to speak perfect English, rather than his usual twangy dialect.)
Caroline runs off, leaving Jack to be raised by the Cheyenne or as they call themselves "the Human Beings". It proves a somewhat idyllic life, though Jack unwittingly makes an enemy of Younger Bear (Cal Bellini). Jack is given the name "Little Big Man" since though he's short, he is very brave, volunteering for battle against the United States Army. The battle does not go well, however, and Jack is captured. He is quickly recognized as a white boy, and put in the care of a Reverend Pendrake (Thayer David) and his wife Louise (Faye Dunaway), who is quite taken by young Jack. However Jack can't quite accept the dichtomy between Louise's pious attitude and her sexual appetite and leaves.
Jack decides to become the apprentice of a snake oil salesman named Merriweather (Martin Balsam) and though he learns a lot, he and Merriweather are tarred and feathered for selling fraudulent products. It turns out Caroline was one of those participating, leading to a rather odd reunion. Caroline's character seems to have developed with lesbian undertones (she comes across as very masculine and displays a resentment towards men) and decides to mold her brother into a gunslinger, the Sody Pop Kid (so called because of his chosen beverage). Jack runs into Wild Bill Hickok (Jeff Corey), who takes a liking to the younger man, but when Hickok kills a man in self defense, Jack loses his taste for gunslinging, and Caroline leaves him.
Jack decides to open ageneral store and get married to a Swedish woman named Olga (Kelly Jean Peters). However, Olga's grasp of English is limited and Jack's partner in the store is a thief who leaves Jack with a load of debt, forcing him to close the store. George Armstrong Custer (Richard Mulligan) just happens to be on the scene and suggests the couple start their lives again out west. Jack decides this is a good idea, though Olga is afraid. However, their stagecoach is ambushed by the Cheyenne and Olga abducted. Jack says he covered three states to look for her.
He is reunited with Old Lodge Skins when a Cheyenne party comes across Jack; they at first try to scalp him (they believe Little Big Man fell in battle) and stop only when Jack explains in Cheyenne what happened. A now blind Old Lodge Skins is overjoyed Jack has returned, but Younger Bear, who has become a "contrary" (a warrior who leads an unusual lifestyle in which everything is done in reverse or opposite) is still clearly bitter. Jack does finally find Olga, who is now married to Younger Bear, but since she does not recognize him, and not wanting to hurt Younger Bear further, he makes no mention of it.
One day Jack comes upon a young Cheyenne woman named Sunshine (Aimée Eccles) whose husband had been killed and must now raise his child alone. Jack agrees to help out and Sunshine becomes his new wife. This happiness is short lived though as Custer and his men attack and slaughter the Cheyenne, including Sunshine. Old Lodge Skins and Jack escape. Jack tries to infiltrate Custer's camp to exact revenge, but though he gets as far as Custer's tent (Custer recognizes him and has him do odd jobs about the camp) he loses his nerve. Custer, more irritated than anything, exiles him from the camp. ("Your miserable life is not worth the reversal of a Custer decision.")
Disheartened, Jack becomes the town drunk in Deadwood, South Dakota. He is drunkenly dancing on the streets for drinking money when Hickok sees him and gives him cash to clean up. It seems that Hickok has an ulterior motive for this: he wants Jack to help out a widow friend of his who must leave town. Jack agrees and goes straight to the bar. He has not even started his drink when he hears shots - Jack McCall (Rory O'Brien) has just shot Hickok. Hickok has time to tell Jack not to tell Mrs. Hickok about the widow before he dies.
Jack goes to see the widow - who turns out to be Louise Pendrake, now a prostitute. Louise does not recognize Jack at first, but when he reveals himself, she is overwhelmed with emotion. She offers herself to him, but Jack, determined to fulfill his word to Wild Bill, gives her the money she needs to start a new life. Though Louise is clearly heartbroken to hear of Bill's death, and not really wanting to leave Jack either, she does decide to honor Bill's dying wish.
After this, Jack becomes a trapper and a hermit. He is ready to commit suicide when he sees Custer and his troops and decides on a new revenge. Incredibly, when Jack offers his services as a scout, Custer accepts, believing anything Jack says will be a lie - he'd be, as Custer puts it, a "reverse barometer". But Jack is leading them into a trap at the Little Bighorn. When Jack truthfully tells Custer of the overwhelming force of Indians he will face there, Custer responds, "Still trying to outsmart me, mule skinner? You want me to think you don't want me to go! But the subtle truth is you really don't want me to go!" and leads the Seventh Cavalry to its doom. Jack is saved - by Younger Bear - and brought to Old Lodge Skins.
At this point, Old Lodge Skins has decided to use his magic to end his life. In a moving speech he supplicates the Great Spirit that he is tired of life and asks to use his magic one last time to die. Instead, it begins to rain. Old Lodge Skins sighs, "Sometimes the magic works, and sometimes it doesn't." They return home to have dinner, with Old Lodge Skins explaining why his new wife is named Doesn't Like Horses.
At this point Jack's narrative ends and he tells the biographer to get out.

Accuracy : very poor