Thomas Ward Custer, George's younger brother and US hero


THE FIGHTING LION

source : Tom Custer's homepage
Before the War
In 1865, George Armstrong Custer said of his younger brother: "Do you want to know what I think of him? Tom should have been the General and I the Lieutenant."(1) Although the elder Custer's heroic exploits in the Civil War are well known, it was Tom who was the first person ever to be awarded two Medals of Honor for his bravery during the War. Such a unique distinction should have resulted in ample book and article coverage in the ensuing years, but until 2002 there had been nothing except for a few articles, none of which concentrated specifically on recounting the story of his early career in the War. Tom has tended to be seen merely as a henchman to his iconic brother, a role to which he would probably not have objected strongly, for he adored and idolised him. In 2002, Carl F. Day's biography, Tom Custer: Ride to Glory (Arthur H. Clark Company), remedied the situation somewhat, but Tom's Civil War years still demand further detailed investigation.
Thomas Ward Custer was born on March 15, 1845, in New Rumley, Ohio, a small village near the West Virginia border. He was the fifth son of the second marriages of Emanuel Custer and Maria Ward Kirkpatrick. Their first two offspring having died in infancy, Tom arrived in a family which then consisted of older brothers George Armstrong (born in 1839) and Nevin Johnson (born 1842), plus several half brothers and sisters. Maria and Emanuel had two more children, Boston (1848) and Margaret Emma (1852).(2) Margaret (Maggie) later married James Calhoun and was fated to lose three brothers and a husband on one tragic day in 1876.
In 1860 the Custers moved north-west to Tontogany, near Bowling Green, Ohio. They were an extraordinarily close family and remained so throughout their lives. Even as adults, the boys liked nothing better than to indulge in a light-hearted scuffle, and their practical jokes (in which father Emanuel also participated) were legendary. The handsome and flamboyant George Armstrong (Autie) was hero-worshipped by all his siblings so it was predictable that, when the Civil War broke out and he graduated with the West Point Class of '61 to begin active service in the Federal Army, his brothers should have wanted to follow his lead. Nevin was the first to enlist, but an inopportune bout of rheumatism resulted in an early discharge, just a couple of weeks later. Both Tom and Boston were too young, Tom being only sixteen: two years under the minimum age for enlistment. It was typical of the Custer family that this did not stop him for long. His first attempt to join up failed when his father had a word with the recruiting officer concerning his age, but Emanuel then seemingly bowed to the inevitable, and to his son's determination. When Tom tried again, lying about his age as before, he was accepted.(3)
In the Western Theater
So it was that on September 2, 1861, at nearby Gilead, Tom Custer joined the 21st Regiment of Ohio Volunteer Infantry; and seventeen days later he was mustered in at Findlay, Ohio, as a private in Company H.(4) The 21st Ohio, a former three-month unit which reorganised that September as a three-year regiment, fought in the Western Theater as part of the Army of the Ohio, and later in the Fourteenth Corps of the Army of the Cumberland. Tom shared a tent with several other Tontogany boys, including Liberty P. Warner, whose letters home reflect camp life for the regiment at this time. "In our mess," he wrote on October 29, 1861, from near Hazel Green, Kentucky, "we include J. Barstead, R. Buffum, C. Grundy, T. Custer, J. Bullis, Barbers 4 and self, all well and healthy... This is a hard place. I have become fully disgruntled with the profanity & vulgarity of the soldiery and do not fall in with it all, not half as much as I did at home." From Bacon Creek, Kentucky, on January 3 and 10, 1862, Warner still had no action to report, but daily life was not too uncomfortable: "Together we are a band of brothers, our 12"... "We have got a nice little stove that can aford to keep us warm. And we have plenty to eat. We draw rations of hard crackers, pickle pork, sugar, coffee, rice, salt, and occasionaly potatoes, beans, vinegar, etc. When we were on the mountains we drew rations of milk when ever we come acrost any cows." In this letter, Warner sketched the lay-out of his tent, with his bed and those of his eleven mess-mates (Tom's nearest the entrance), marked and numbered, all in a ring around the central stove.(5)
From October 1861 until the end of 1862, the 21st Ohio participated in frequent but minor and relatively bloodless engagements in Alabama, Kentucky and Tennessee. In March, for instance, they were rebuilding bridges burnt by the Confederates near Murfreesboro (Tennessee); April found them in Huntsville (Alabama), acting as guard to the Provost Marshal of the city; and in July, the detached Company H was clearing the railroad track near the Elk River (Tennessee). Liberty Warner probably expressed the feelings of most of the men when he wrote in May: "We are beginning to get tired of this thing. It has hung on until we are now in fighting order and now we want to fight... If there is any fighting, we are ready." But the final months of the year offered scant action for the 21st, who were stationed in the besieged city of Nashville, "shut out from the world" and with little to challenge them: "I have been in 3 skirmishes and have never fired a gun," Warner complained. Everything was to change in December.(6)
Meanwhile, Autie Custer was making a name for himself in the Eastern Theater. He was in the thick of things in 1862 during Major General George B. McClellan's Peninsula Campaign and, although McClellan's advance on Richmond failed, Autie was already acquiring a reputation for courage and opportunism. Nevertheless, he still had time for some moments of reflection. During the siege of Yorktown in April, he was in a reconnaissance which came under fire from enemy sharpshooters, and afterwards he wrote to his half sister: "The day before yesterday we buried our dead slain in the skirmish, in the clothes they wore when killed, each wrapped in his blanket.... Some were quite young and boyish, and, looking at their faces, I could not but think of my own younger brother." Back at home Tom's parents were worried too. Emanuel wrote to Autie on April 18, saying that his wife "troubles hir self so much about you and Thomas and she doant like to here of you being so venturesom."(7)
The 21st Ohio moved out of Nashville in December, and by the middle of the month they were camped near Murfreesboro, where, according to Liberty Warner, they were unable to resist the temptation of the flocks of robins that roosted nearby every night: "As soon as it comes dark the boys slip the guard and with torch and shelalah they charge on the devoted red breast, who stare at the torch untill they are nocked of[f] of the cane. Our mess had a pot pie of some 3 or 4 dozen of this species of songster." It was a pleasant interlude, but soon Tom and the rest of the regiment were involved in "fierce and continuous" skirmishing in the days leading up to their first major fight.(8)
At the Battle of Stone's River (Murfreesboro) on December 31, Colonel John F. Miller's brigade, containing the 21st Ohio, was in the centre of the Federal line. As "the battle raged with uninterrupted fury" around them, the officers and men of the regiment "universally fought with desperation and bravery", according to their Colonel, James M. Neibling. At one point they repulsed a bayonet charge. But when the hard-pressed units on the Army's right flank gave way, the brigade was forced back too. The next two freezing nights were spent on the field, both sides reforming and altering position, before action resumed on January 2. Once again the Northerners soon fell back in disarray, but then the enemy attack began to lose momentum. Seizing the opportunity, and without waiting for authorisation from his superiors, Miller ordered his brigade to charge across the river to support the beleaguered units. The 21st Ohio, Neibling reported, "although...much impeded by the disorganized flight of infantry, artillery, and riderless horses...reached the opposite bank of Stone's River and engaged the enemy. The struggle which ensued was desperate and bloody... The enemy was completely routed, and night closed pursuit, leaving us in possession of [the] battlefield." It was a terrible victory. Neibling's losses were 24 killed, 109 wounded and 26 missing. Among the wounded was Liberty Warner, who was captured and later paroled. His enthusiasm for a fight had quickly disappeared. A month after the battle, he wrote: "Oh, the scenes of blood that I have seen. I wish that they could cease, not that I fear it, but it so hardens a person, a dead man seems no more than a dead sheep or a log of wood."(9)
This was to be the only full-scale fight which Tom Custer saw with his regiment, for in April 1863 he managed to get himself assigned to escort duty on the staff of Major General James S. Negley, the 21st Ohio's division commander. Many years later, General Negley told Libbie Custer (Autie's widow) that he remembered Tom as "a splendid soldier" and "bore testimony in unstinted words to the courage and fidelity of the lad". No doubt the high-spirited but hard-working Tom had exactly the right character to appeal to Negley who was "a huge, handsome man who radiated good will without losing firmness."(10) For his part, Tom, the farmer's son, must have been delighted to be back in the saddle instead of slogging with the foot soldiers. He was in Negley's escort at the Battle of Chickamauga, but this was not, it would be fair to say, Negley's finest hour. On September 20, the General chose to retreat to Rossville at a time when he was needed to support the Federal left flank. Whether his judgment was impaired due to the physical illness which nearly kept him from the battlefield that day, or whether he was only doing the best he could in view of the fact that he had lost contact with most of his troops, the result was that he was immediately removed from duty until a Court of Enquiry could consider his case the following January. The Court exonerated him of all blame but his days of active service were over.(11)
Tom was probably lucky not to have been fighting with the 21st Ohio at Chickamauga. They did not retreat with Negley but stayed until the last, and were one of the final Federal units to withdraw. Armed with Colt revolving rifles, they used up over 43,000 rounds of ammunition, but were eventually almost surrounded by the enemy and had to cut their way out with a bayonet charge. Their casualties numbered nearly half the regiment: 28 killed, 84 wounded and 131 captured or missing. Tom's friend from Tontogany, Liberty Warner, would never write home again about drawing illicit milk rations or making robin pie. He had recovered from his Stone's River wound only to be killed at Chickamauga during the final stand on Snodgrass Hill.(12)
General Negley may have gone, but evidently Tom Custer was unwilling to give up the life of an orderly, and his services were needed elsewhere, for he proceeded to serve in the escorts of a succession of generals over the ensuing months. At Missionary Ridge and Chattanooga, from November 20, he was on the staff of Major General U.S. Grant himself. Then, at the beginning of 1864, the 21st Ohio re-enlisted for a further three years as veteran volunteers. After a furlough, during which he attended the wedding of brother Autie to Elizabeth (Libbie) Bacon on February 9 in Monroe, Michigan, Tom spent only a short period back with his regiment before joining the staff of the Fourteenth Corps' John M. Palmer for the Atlanta Campaign. He was with General Palmer in time for the Battle of Kennesaw Mountain on June 27. Following Palmer's resignation in early August over a ranking disagreement, Tom apparently stayed on at Fourteenth Corps Headquarters, under General Jefferson C. Davis, for the Battle of Jonesboro on September 1. He may then have briefly joined the escort of Major General George H. Thomas, commander of the Army of the Cumberland, but there is no clear evidence for this, and he certainly did not accompany Thomas to Nashville later that month after the taking of Atlanta. Instead, Tom was with the Fourteenth Corps as it and the rest of William Tecumseh Sherman's forces pursued John Bell Hood's Confederate army into Alabama. By late October, Sherman was at Gaylesville, and it was here that Tom, who had risen to the rank of corporal on his January re-enlistment, received news of a much more significant promotion.(13)
Tom joins his brother
Considering the closeness of the "Custer clan" and the widespread nepotism in the armies of both the North and the South, it is surprising that George Armstrong Custer, a brigadier general since June 1863 and newly in charge of a division, should have taken until now to secure a position for his brother on his staff. Perhaps a suitable occasion had not presented itself, or perhaps Autie thought Tom was safer where he was. For whatever reason, it was not until the summer of 1864 that Autie began to make a serious attempt to obtain for Tom an officer's rank in his brigade. At first he was unsuccessful: Colonel Russell A. Alger of the 5th Michigan Cavalry twice declined Autie's request that a suitable vacancy for a second lieutenant in the regiment might be found for Tom. Alger preferred to promote from amongst his own sergeants, and no doubt also realised that Tom would immediately join Autie's staff so would not be much value to the regiment. Colonel James A. Kidd, however, was more amenable and his offer of a commission for Tom in the 6th Michigan was received by Autie at the beginning of October. Autie wrote to Kidd on October 3 of his "sincere and heartfelt gratitude for this great favor", and the following day a letter was sent to George Thomas asking for Tom's transfer.(14)
So Corporal Tom Custer was mustered out of the 21st Ohio on October 23, and travelled to the Shenandoah Valley where he took up his appointment as a second lieutenant in Company B of the 6th Michigan Cavalry on November 8. He promptly joined his brother as an assistant aide-de-camp.(15) Autie's regiments had been constantly active that summer and autumn fighting as part of Major General Philip H. Sheridan's Army of the Shenandoah, whose purpose was to drive Lieutenant General Jubal A. Early's Confederate forces out of the Valley. Sheridan's last great success of the season was at Cedar Creek on October 19. Early was driven back and would make one final stand the following March at Waynesboro, so when Tom arrived there was little for the cavalry to do until the spring, except to make a few forays in search of partisans and enemy raiders, and to participate in one or two raids of their own. There was a small battle at Lacey Springs on December 21, when Custer's division was surprised by a pre-dawn enemy attack under the command of his old West Point friend Thomas Rosser, but it was quickly repelled with the loss of only 2 dead and 22 wounded. Autie reported to Sheridan that his worst problem was the weather: during the expedition, 230 of his men were frostbitten.(16)
The quiet winter months gave Autie the chance to size his brother up, and he wrote to his father-in-law that "Tom, with a little more experience will make a valuable and efficient aide." Libbie Custer had travelled from Washington to join her husband a few days before Tom's arrival, and Long Meadow, the house near Winchester commandeered for the Custers and division staff, was filled with a succession of visiting friends and relatives, plus the inevitable Custer dogs and other animals.(17) Libbie wrote to her cousin on November 15: "Aut's brother Tom...is with us. Such an open-hearted boy, he adds much to our family circle - for as such I consider the staff."(18) Tom was still only nineteen and photographs taken at this time show a very boyish, clean-shaven lad, slim like his brother. He had the same blue eyes and light complexion, but his sandy hair was a little darker than Autie's famous golden locks. Earlier that year, when Tom had re-enlisted as a veteran with the 21st Ohio, his height on the muster roll was given as 5'9", two inches taller than when he first left home in 1861.(19)
Although in a later eulogy Libbie claimed that "[Tom] seemed to have come through unscathed by the coarseness of his surroundings as an enlisted man", he had undoubtedly picked up some unsuitable habits amongst the rough and ready men who fought in the Western Theater.(20) He had started drinking, sometimes to excess, which was a weakness that would stay with him for the rest of his life. Additionally, his conversation was not as refined as Libbie might have preferred, and his taste for tobacco, acquired before the War, had been taken to extremes. Autie admitted that he was "anxious concerning his conduct" for a while, but Libbie soon got to work.(21) "The amount of mothering and petty tyranny I exercised was not in proportion to my years," she said, "but [Tom] submitted to it all as only brave and big-souled men can do when assured of sincere, disinterested affection."(22) Tom adored Libbie, and, although she was never quite so successful in influencing him as she was with her husband, it does seem that Tom, the uncultured farm boy, made a concerted effort that winter to educate and refine himself: "He not only aimed to be a perfect soldier, but he was determined to take up his studies, interrupted by his early enlistment... he bought himself school-books, and poured over them with patience in the evenings."(23) The following year, Libbie felt able to report to her parents that "Tom is a fine boy. He has improved so much."(24) Autie agreed: "He has quit the use of tobacco, is moderate in drink, is respected and admired by officers and all who come in contact with him."(25)
As for work, there was never any question of Tom's receiving preferential treatment from Autie. If anything the opposite was the case. As another member of the staff told Libbie: "If any one thinks it is a soft thing to be the commanding general's brother, he misses his guess." Libbie wrote that on the occasions when "the General and his staff...were awakened by the news that required one of them to saddle and start off for night duty, Tom was the one selected. I never heard that he even looked a murmur."(26) She was being a little economical with the truth here, for Tom had been known to complain to her about "that old galoot" who grumbled at him for "every little darned thing just because I happen to be his brother." Autie drew a sharp dividing line between business and pleasure. Libbie was constantly surprised at the way he would "turn to Tom from a game of cards we were playing, or from a general family frolic in which we were all participating, and give some necessary order in the changed tone and severely grave manner that necessarily belongs to military directions." Family frolics could get a little rough: in December, Maggie Custer grumped to Libbie that Tom pinched her so hard "He left a big blue mark on me last time."(27)
The 1865 fighting season began in earnest on March 2 when an attack by Custer's division on Jubal Early's remaining forces at Waynesboro resulted in the latter's complete collapse, and the capture of over 1200 men. Phil Sheridan then moved his troops away from the Shenandoah Valley to join with General Grant and the Army of the Potomac in a final push against Robert E. Lee's Army of Northern Virginia in and around Petersburg. At Dinwiddie Court House, on March 31, Sheridan's cavalry faced the Confederate right flank under the command of Major General George E. Pickett. Autie Custer's men were in support but before the day was out they were required to advance and hold a defensive line as the other divisions were forced back. As night fell, the Federals had not succeeded in their aim of reaching the Southside railroad, but, thanks to Custer, nor had they been driven from the field. The next day, at Five Forks, they were able to follow up with a frontal attack by cavalry supported by a fortuitous flanking manoeuvre from the infantry of the Fifth Corps. The consequent Confederate rout precipitated the flight of Lee's Army from Petersburg and Richmond, with Sheridan in hot pursuit as Lee attempted to link up with Joe Johnston's Army of Tennessee in North Carolina.
At Waynesboro, Dinwiddie Court House and Five Forks, Tom Custer's performance was everything his brother could have hoped for, and he was brevetted successively to first lieutenant, captain and, eventually, major, for "distinguished and gallant conduct."(28)
Two Medals of Honor

Tom was to exceed Autie's expectations on two occasions during the next few days. At Namozine Church, on April 3, three regiments of enemy cavalry made a rearguard stand which elements of Custer's division had to dislodge. The Northerners charged in front and flank and the Confederates broke. In the middle of their line the color-bearer of the 2nd North Carolina lost his flag to a young man in the thick of the melee. It was Tom, discovering that a staff position could be far more exciting than it sounded, especially when one's commander was George Armstrong Custer! Autie wrote to Libbie the next day: "Tom in the most gallant manner led the charge of the Second Brigade... [He] is always in the advance." For the second time that month Tom had his horse shot from under him (the first was at Five Forks). As well as the color-bearer and flag, he took a dozen prisoners, including two or three officers, and was to be awarded a Medal of Honor for his actions.(29)
Just three days later at Sailor's Creek, on April 6, Tom thought he saw an opportunity to add to his new collection of enemy colors. This was a much larger fight than Namozine Church, involving both cavalry and infantry, but once again the battle around Custer's regiments culminated in their charging to dislodge the enemy line. All previous efforts having failed, the mounted charge was ordered and Tom was in the forefront as before. This time, though, the opposition was stronger and there was a second line of breastworks behind the first. Tom was in trouble but still determined to get his flag. One of Autie's brigade commanders, General Henry Capehart, saw what happened next and, twenty years on, described it to Libbie Custer:
"It was from the second line that he wrested the colors, single-handed, and only a few paces to my right. As he approached the colors he received a shot in the face which knocked him back on his horse, but in a moment he was again upright in his saddle. Reaching out his right arm, he grasped the flag while the color-bearer reeled. The bullet from Tom's revolver must have pierced him in the region of the heart. As he was falling, Captain Custer wretched the standard away from his grasp and bore it away in triumph. For intrepidity I never saw this incident surpassed."(30)
Lieutenant Colonel Edward W. Whitaker, Autie's chief of staff, told Libbie that "Tom, on that day, fought like a lion."(31) Autie was inclined to agree. When he wrote to his father-in-law soon afterwards, he said:
"Tom led the assault upon the enemy's breastworks, mounted, was first to leap his horse over the works on top of the enemy while they were pouring a volley of musketry into our ranks. Tom seized the rebel colors and demanded their surrender. The color-bearer shot him through face and neck... So close the muzzle Tom's face was spotted with burnt powder. He retained the colors with one hand, while with the other he drew his revolver and shot the rebel dead... I am as proud of him as can be, as soldier, brother."(32)
Tom came racing back into the Federal lines, blood pouring from his face but waving what some sources have identified as the standard of the 2nd Virginia Reserve Battalion. Major John V. Allstrom of the 3rd New Jersey Cavalry saw him and shouted, "For God's sake, Tom, furl that flag or they'll fire on you." As he galloped up to Autie, Tom yelled, "Armstrong, the damned rebels have shot me, but I've got my flag"; then he turned and started back into the fight. His brother told him to go to the rear to have his wound attended to, but Tom's blood was up and Autie could see that he was all set to disobey, so he resorted to the extreme measure of threatening to arrest him. There was no way Tom could defy this, so back to the surgeon he had to go.(33)
The next day, in a letter to Libbie, Autie admitted that he was extremely worried. The wound, he said, "is very near the main artery", and "much like the mortal wound" a favourite color sergeant had received at Trevilian Station in June '64.(34) According to Libbie's description, the bullet "had entered [Tom's] cheek and passed out behind his ear", but fortunately the injury was not as serious as it looked.(35) It appears that the musket ball had grazed along just under the surface of Tom's right cheek before coming out at the neck. Tom was not admitted to the field hospital at Burkesville until Lee's Army surrendered three days later. He then travelled to the Cavalry Corps Hospital at City Point, arriving on April 11, and is recorded as having "left hospital without showing authority." A few days later, he was in Washington. Clearly his injury was not a severe one, yet there was always a risk of infection and even good clean facial wounds often result in scarring. Libbie recalled that, in 1866, Tom still bore "the scarlet spot on his cheek where the bullet had penetrated"; and it has been pointed out that one of the few post-War photographs showing the right side of his face reveals what may be a scar.(36) This would tie in with the narratives of the Arikara scouts on the Little Big Horn expedition eleven years later. To them, the younger Custer was "Tom, the one with the scar on his face."(37)
For his second capture of an enemy flag Tom was awarded another Medal of Honor, which made him the first to receive this dual distinction since the Medal was inaugurated in 1862. In its entire history there have only been around twenty double winners. During the Civil War, Medals of Honor were often given for the capture of Confederate colors, and on occasion the flag in question was not so much captured as found lying on the ground after the fight. However, no one could deny that young Custer deserved his, and that, as Libbie told her parents, "Tom is a hero."(38) It was a proud twenty-year-old who presented his spoils to the War Department in Washington and received his first Medal in a ceremony on April 24.(39) Then he went home to recuperate and, as Libbie put it, "the black patch, planted in the midst of a very new and downy beard, was an ornament in our eyes for all the time it covered his wound." He gave his red necktie, stiff with blood, to his parents as a memento.(40) On May 22, he was back in Washington for his second Medal, and the next day he rode through the capital in the Grand Review of the Union armies.(41)

After the War
Following the end of the War, Tom served as Autie's aide in Texas until January 1866, when he travelled to Michigan and mustered out in Detroit on the 31st. Soon afterwards he received a commission as a second lieutenant in the regular army, and later the same year he joined the new 7th Cavalry as a first lieutenant.(42) Because this was one step higher than his position in the volunteer army, his brevet rank was also eventually upgraded to lieutenant colonel. For the rest of his life he would wear his two Medals of Honor with pride at every opportunity, though he showed a healthy tendency not to take them too seriously. Sometimes he would even allow a girlfriend to be photographed with them pinned to her dress.(43)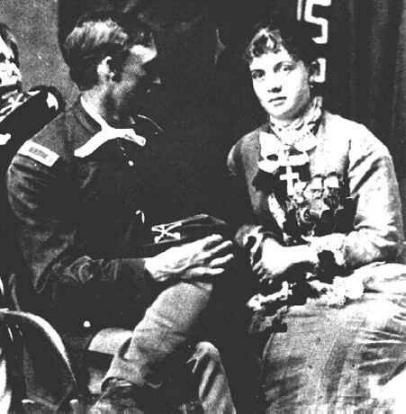 Throughout the next ten years Tom served, usually under his brother, in the 7th Cavalry. He was a good officer, but when Libbie was not around he was prone to lapse into heavy drinking and other bad habits. In February 1869, for instance, Autie wrote Libbie that "[Tom] is cuter than ever, but he is becoming more profane, and a little vulgar. I have not spoken to him about it, but am leaving that pleasant duty for you."(44)
In 1865, Autie had written that Tom's "excellent judgment tells him when to press the enemy, and when to be moderate. Of all my...officers he is quickest in perceiving at a glance the exact state of things. This trait frequently excites comment." Someone once observed to E.A. Paul, the New York Times correspondent and friend of the Custers, that, since Tom was in Washington that April, he might have been in Ford's Theatre on the 14th, the night of Lincoln's assassination. Paul replied with typical newspaperman's hyperbole: "Impossible. Tom would have taken in the situation at a glance and the assassin would never have escaped."(45) There are some situations, however, where excellent judgment and fast reactions are not enough, as was the case on June 25, 1876, when five companies of the 7th Cavalry were wiped out to a man by the Sioux and Cheyenne, at the Battle of the Little Big Horn. Tom was Captain of Company C by this time, but may have been on detached staff duty. At any rate, his body was found a few yards from Autie's, while nearby were the remains of another brother, young Boston (a civilian guide on the expedition). Brother-in-law First Lieutenant James Calhoun, commander of Company L, was lying elsewhere on the field.
Tom Custer could only be recognised by means of a tattoo. He had been mutilated beyond all semblance of humanity; indeed his body seems to have been singled out for particular brutalisation. There are a number of theories attempting to account for this, one of the least far-fetched being that it was treatment reserved for those who "fought the longest and hardest", and that Tom, probably after witnessing the death of his brothers, battled on "as a demon possessed." Ironically, First Lieutenant Edward S. Godfrey, who identified Tom's mangled remains, had, like him, been a soldier in the 21st Ohio, back in 1861.(46)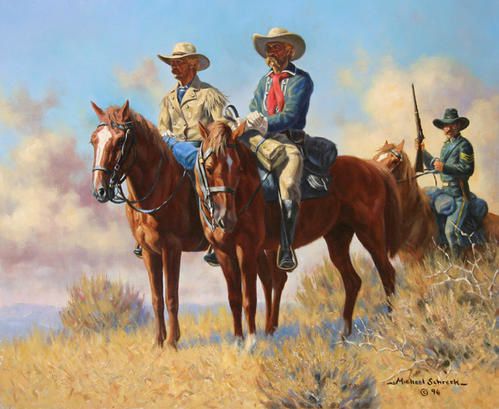 BUY THE BEST BOOK ON TOM CUSTER NOW!
(click on the cover or the link for more informations)