AUTIE!
"I wanted to be a mark of honor for the future generations."
George Armstrong Custer is 168 years old!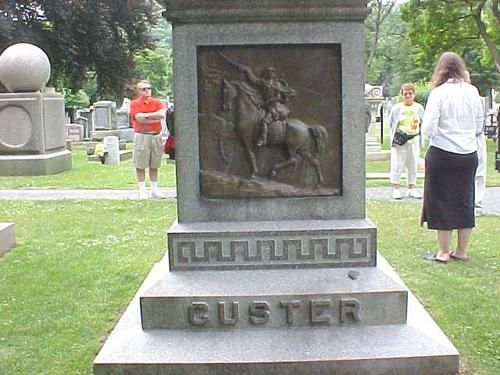 A comment posted by a visitor on
Flagguys.com
"This is one of the most beautiful grave markers at West Point "old" Academy Chapel. Next to this oblisque is Elizabeth (Libbie) Bacon Custer who was buried here 57 years after her brave and noble husband died. The base for this memorial was the original base for GAC's statue at West Point. Liibbie didn't like it so it was probably used for armamont during WWI. I have head tour guides deriding Cust er and not speaking well of his military service. That person and anyone with that mind-set showing this brave warrior's grave at WP is a fool. Custer was a brave and loyal patriot. He died fighing for his flag and the nation he served for almost 20 years including 4 years at the Academy. He was in every major battle of the Civil War (Army of the Potamac) and should not just be remembered as a failure at LBH. He was in 4 Indian fights. He was victorious in 3. Over 1/2 his command at LBH lived. He rode in with 500 and 265 perished. Custer should be remembered as an American hero and this nation needs to heal its "White-Christian" guilt over the native peoples of this land."