Myles W. Keogh's life and times
THE IRISH KNIGHT

source: Brian C. Pohanka, Wild Geese
below: a special video tribute to Myles Keogh by custerwest.org
Now I like Garryowen,
When I hear it at home,
But it's not half so sweet when you're going to be kilt.
-- From Charles Lever's 'Charles O'Malley, the Irish Dragoon' (Dublin, 1841)

National Archives Photo
Myles Walter Keogh was born on March 25, 1840, at Orchard House, a stone dwelling that still stands near the village of Leighlinbridge, County Carlow. Myles' father, John Keogh -- the name sometimes appears as Kehoe -- was a Carlowman whose brother, Patrick, had been executed by the English at Carlow town following the Uprising of 1798. The family was staunchly Catholic and, despite the mistaken claims of some authors, John Keogh never served as an officer in the 5th Royal Irish Lancers or any other British army unit. Myles' mother, the former Margarete Blanchfield, hailed from a prosperous landholding clan whose ancestral seat was at Rathgarvan, near Clifden in County Kilkenny.
In the photo above, taken during Keogh's first months of service in the Union Army, he wears the medals from Papal Service, "Pro Petri Sede" and Ordine di San Gregorio."
Myles and his 12 siblings -- four boys and eight girls -- were reared in comfortable if not wealthy circumstances, and had he chosen to live the life of a gentleman farmer he could probably have done so. His maternal aunt Mary Blanchfield ultimately willed Myles the family estate in Kilkenny known as Clifden Castle. But while Myles' favorite brother, Tom, was content to follow a staid course through life, there was something in the makeup of the tall, slender blue-eyed youth that craved adventure. His career would in many respects epitomize the peripatetic wanderings of the "Wild Geese" who sought glory on foreign shores, amidst the clash of arms.
In March 1860, Pope Pius IX called upon the young men of Ireland to help preserve the sovereignty of the Papal States, which were threatened with annexation by the armies of Piedmont-Sardinia. While many Italians, sympathetic to the Piedmont-backed revolutionary forces of Garibaldi, viewed the continued existence of the Papal holdings as an impediment to a united Italy, Catholic volunteers from throughout Europe rallied to the Vatican's support.
Keogh was among the 1,400 Irishmen who traveled to Italy, and in July was appointed lieutenant in a four-company battalion garrisoned in the Adriatic port city of Ancona.
On September 18, the main body of the 18,000-man Papal Army was defeated in the battle of Castelfidardo, and Ancona was soon besieged by land and sea. The outnumbered Papal defenders put up a spirited defense until the inevitable capitulation on September 29, 1860. Following a brief incarceration in Genoa, Keogh and 45 Irish comrades traveled to Rome, where at the invitation of Pius IX they joined the Papal Guard as the green-uniformed "Company of Saint Patrick."
The dashing young lieutenant now sported two medals for valor, the Pro Petri Sede and Ordine di San Gregorio; but with the fighting over Keogh saw little purpose in remaining at Rome. With Civil War raging in America, Secretary of State William H. Seward began seeking experienced European officers to serve the Union, and called upon a number of prominent clerics to assist in his endeavor. John Hughes, Archbishop of New York, traveled to Italy to recruit veterans of the Papal War, and met with Keogh and his comrades. One highly decorated officer of the Irish Battalion, John J. Coppinger, had already departed for America where he obtained a commission in the U.S. Regular Army, and others soon followed.
Thus in March of 1862 Keogh resigned his commission in the Company of Saint Patrick, and with his senior officer – 30-year-old Daniel J. Keily of Waterford -- returned briefly to Ireland, then boarded the steamer Kangaroo bound from Liverpool to New York, where the vessel arrived April 1. Another Papal comrade, Joseph O'Keeffe – 19-year-old-nephew of the Bishop of Cork -- rendezvoused with Keogh and Keily in Manhattan. Through Secretary Seward's intervention the three were given Captains' rank and on April 15 assigned to the staff of Irish-born Brigadier General James Shields, whose forces were about to confront the Confederate army of Stonewall Jackson in the Shenandoah Valley.
Keogh won plaudits for his bravery in the Valley Campaign, most notably in the engagement at Port Republic on June 8, where his comrade Dan Keily was severely wounded. In the early stages of the fight Keogh led a mounted patrol that very nearly captured Stonewall Jackson himself. On July 31 Keogh and O'Keeffe were transfered to the staff of cavalry Brigadier General John Buford. That tough, veteran horse soldier found his Irish aides just the type of officers he was looking for, commending them as "dashing, gallant and daring soldiers." Army of the Potomac commander George McClellan was equally impressed, describing Keogh as "a most gentlemanlike man, of soldierly appearance," whose "record had been remarkable for the short time he had been in the army."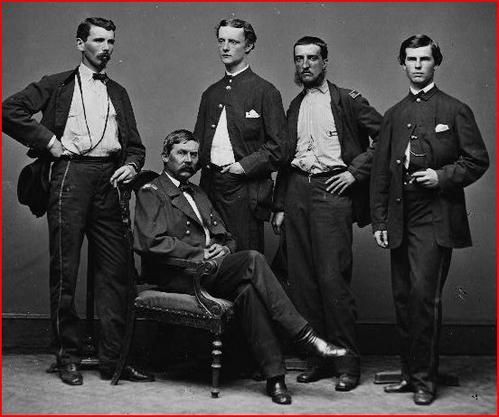 Brig. Gen. John Buford and staff, August 1863. Buford is seated with his trusted aides, left to right: Myles Keogh, Peter Penn-Gaskell, Craig Wharton Wadsworth and Albert Payson Morrow.
Captain Keogh served with Buford through the Fredericksburg and Chancellorsville campaigns, and was in the thick of the huge cavalry clash at Brandy Station, where his friend O'Keeffe was shot in the leg and captured. For his part in the epic battle of Gettysburg, where Buford's gritty stand on July 1, 1863 contributed mightily to the Union victory, Keogh received the brevet rank of Major. When Buford contracted typhoid fever that autumn, Keogh accompanied the ailing General to Washington and stayed faithfully at Buford's side till he succumbed on December 16, 1863. Distraught at the death of his beloved commander, Keogh accepted a transfer to the war's Western Theater where he was appointed to the staff of General George Stoneman, commanding the mounted forces of Sherman's army.
Captain Theodore Allen of the 7th Ohio Cavalry later recalled that Myles Keogh's dandyism made him at first far from popular with the hard-bitten western troopers. "We did not like the style of Captain Myles Keogh," Allen wrote; "there was altogether too much style. He was as handsome a young man as I ever saw. His uniform was spotless and fitted him like the skin on a sausage." But Allen revised his opinion when Keogh gallantly led the Buckeyes in a charge during the Atlanta campaign. "Raising himself in the stirrups, and with cap in one hand, he turned to the battalion and cried out, "Hip, hip hurrah boys! Here we go!"
General Stoneman saw to it that Keogh was promoted Major and acting chief of staff. In that capacity he accompanied the General on a daring raid behind enemy lines to free the Union prisoners incarcerated at Macon, Georgia. If all went well, Stoneman planned to continue on and liberate the notorious stockade at Andersonville. But on July 31, 1864 the Confederates surrounded and attacked Stoneman's troopers outside of Macon. Both Stoneman and Keogh had their horses shot from under them and were taken prisoner. Confined in Macon and later at Charleston, South Carolina, Keogh was fortunate enough to be exchanged with General Stoneman on September 30. "I thank God I was thought enough of by Genl. Sherman to be specially exchanged," Keogh wrote his sister Ellen. "I should have died in a very short time & as it is I am almost broken down."
After recovering his health, in the war's final months Keogh rendered distinguished service as chief of Stoneman's staff in a series of destructive raids through North Carolina and southwestern Virginia, frequently leading squadrons and regiments in action. The 25-year-old Major emerged from the Civil War with the brevet rank of lieutenant colonel in both the Volunteer and Regular Army. Keogh's superior officers were effusive in their praise. "He is unsurpassed in dash," General Alvan C. Gillem wrote. "His soldierly bearing and spirit were a model," noted General Jacob Cox, "he was born a soldier." General John M. Schofield called Keogh "one of the most gallant and efficient young cavalry officers I have ever known." With recommendations like these Keogh was hopeful of obtaining a commission in the postwar Regular Army.
Major Myles Keogh with fellow officers of General Stoneman's staff and an officer's wife and infant, an image taken on Lookout Mountain, overlooking Chattanooga, Tennessee in late 1864. Keogh stands at right.
In the meantime the young soldier spent several months on occupation duty in Knoxville, Tenn. Keogh shared rustic quarters with Colonel Andrew J. Alexander and his young bride, Eveline Martin Alexander. Generals Emory Upton and James Wilson were frequent guests at what Evy Alexander called "a cavalrymen's menage," and Keogh counted both men among his closest friends. Indeed when General Upton wed Evy Alexander's sister, Emily Martin, he asked Keogh to serve as groomsman and accompany the couple on their honeymoon in Europe. Keogh was not able to do so, but the invitation is an indication of the regard that the brilliant military theorist, Upton, had for the Irish cavalryman. This camaraderie was some consolation for the loss of his Papal Army friend Joseph O'Keeffe, who had been mortally wounded leading the 2nd New York Cavalry at the battle of Five Forks.
Capt. Joseph O'Keeffe (1842-1865), Keogh's comrade in Papal service and on Gen. John Buford's staff in the East. O'Keeffe was wounded and captured at Brandy Station. Exchanged, he joined Phil Sheridan's staff and accompanied him on his famous ride to Cedar Creek. O'Keeffe was mortally wounded at the battle of five forks as Major of the 2nd New York Cavalry.
It was through his association with Upton and Alexander that in October of 1866 Myles Keogh first visited "Willowbrook," the Martin family estate on Owasco Lake, near Auburn, New York. Over the next decade Myles Keogh became almost a member of the family, and would frequently regale the young ladies of the household with his spirited reading of his favorite book, Charles Lever's swashbuckling novel of the Napoleonic Wars, Charles O'Malley the Irish Dragoon. As Evy Martin Alexander put it, Keogh "wound himself about our hearts." Some authors have implied that there was a budding romance between Keogh and Cornelia "Nelly" Martin, one of Evy's and Emily's sisters -- though there is little to support that contention. Nelly's lifelong solicitude for "My precious Keogh," as she referred to him, was in reality more sisterly, even maternal, than romantic.
Not long after the war Myles wrote his brother Tom, "My great weakness is the love I have for the fair sex, and pretty much all my trouble comes from or can be traced to that charming source." By August of 1866 this rakish tone had changed. "I have now no one else to care for," Keogh wrote; "I am very, very lonely...I have had some things to try me severely, so much so that the future is of little importance to me." The reason for Myles' depression was revealed two months later in a letter written to Tom from Washington, D.C.: "....my hopes are dead for my future earthly happiness & the dear creature I dreamt of being happy with lies yonder in Oakhill Cemetery where I have just visited her cold vault." While Keogh never divulged the identity of his "dear creature," research indicates that she was likely Abby Grace Clary, the 28-year-old widow of Captain Robert Emmett Clary, Jr., a recently deceased veteran of Buford's command. Her death on June 17, 1866 was a blow from which Keogh never entirely recovered. From then on, as he informed Tom some years later, "I never propose to form any ties. I might often have married for money but I never gave it a moment's serious thought & never propose to."
Capt. Keogh and his friend, Lt. Col. A.J. Alexander, circa 1864. Note that Keogh is pulling Alexander's long beard and that their legs are intertwined.
Myles Keogh's initial Regular Army assignment was to the 4th U.S. Cavalry, but he never served with that unit. In November of 1866 he was ordered to Fort Riley, Kansas, to become Captain of Company I in the newly formed 7th U.S. Cavalry Regiment, in which the flamboyant "boy general" George Armstrong Custer was now serving as Lieutenant Colonel. The regiment's 12 companies were more often than not dispersed among various frontier posts, and Captain Keogh was placed in command of Fort Wallace, Kansas, an isolated garrison on the Smokey Hills Trail. He soon discovered how frustratingly different Indian warfare was from European and Civil War campaigning. After a typically unsuccessful pursuit of a Cheyenne raiding party, Keogh informed Regimental Adjutant Myles Moylan, "without knowing exactly where to surprise their camp, or having a guide who can track them at a run, it is a waste of horseflesh and time to endeavor to come up with them."
Keogh invariably rose at daylight to make his rounds, and passed much of the day in mundane military routine. What little spare time was allowed him he spent hunting, and prided himself on his ability to shatter a bottle at a distance of 150 yards. The sadness he felt upon learning of the death of his old Papal comrade Dan Keily -- who succumbed to yellow fever in Louisiana -- was tempered by a new acquaintance. "I have a nice fellow with me," he wrote, "an Irishman & Catholic. He formerly belonged to the 41st Foot, English Army, a graduate of Sandhurst & served in the Crimea." This officer, Lieutenant Henry J. Nowlan, became Keogh's closest friend in the regiment.




The story of the 7th Cavalry and its controversial field commander, George Custer, has been so shrouded in legend that it is sometimes difficult to sort fact from fiction. For instance it is highly unlikely that Keogh had anything to do with the rollicking Irish ballad "Garryowen" becoming the 7th Cavalry's theme song. Custer had heard that spirited march on many occasions, dating back to his tenure as a cadet at West Point, and knew that it lent itself to the prancing gait of the cavalry mounts. While some writers have portrayed Keogh as a Custer intimate, their relationship, though outwardly cordial, was at best ambivalent. On one occasion, Keogh's junior officer, Lieutenant Charles Brewster, advised Custer that Keogh was "not friendly" toward him. And for his part, Custer revealed his opinion of Keogh in a letter to his wife Libbie: "I do think him rather absurd," Custer wrote, "but would rather have him near us than many others."


In fact, Keogh witnessed few of Custer's exploits on the frontier. The Captain was absent on staff duty during the winter campaign of 1868 that culminated in the 7th Cavalry's attack on Black Kettle's encampment at the Washita. From 1871 to early 1873 the regiment was widely dispersed on Reconstruction Duty in the South, and Keogh rarely served at the same place as Custer. In the summer of 1873, while Custer was fighting the Sioux and Cheyennes on the Yellowstone River, Keogh's company was detached to the Canadian border as part of an Army escort to the Northern Boundary Survey. And the next summer, as Custer led his controversial expedition through the Black Hills, Keogh was enjoying a welcome seven-months leave of absence among his family in Ireland. It was the second time he had been able to return to his birthplace since joining the 7th Cavalry, and it was during this sojourn among his beloved family that Myles deeded his inheritance of the Clifden estate in Kilkenny to his sister Margaret.

Courtesy of Little Bighorn Battlefield
Keogh stands beside George Custer in a photo taken during a picnic near Fort Lincoln in the summer of 1875. Though Keogh appears shorter than Custer, he is actually leaning forward and, at just over six feet, was two inches taller than his commander. Custer's wife, Libbie, sits at center.
These visits to Ireland meant a great deal to Keogh, who since his parents' deaths felt deeply the obligation of supporting his sisters, in particular, to the best of his ability. The isolation of military duty on the Western frontier often weighed heavily upon him, and when depressed he occasionally drank to excess, though he seems not to have fallen prey to the chronic alcoholism that destroyed the careers of many fellow officers of the frontier Regular Army. There was more than a tinge of melancholy in Keogh's nature, which seemed somehow at odds with his handsome, dashing persona. While he was not given to self-analysis, Keogh once noted, "A certain lack of sensitiveness is necessary to be successful. . . . This lack of sensitiveness I unfortunately do not inherit."
Soon after rejoining his company at Fort Abraham Lincoln, Dakota Territory, in the summer of 1875, Keogh was bedridden with what a surgeon diagnosed as "remittent fever and severe nervous prostration." He was bothered by old injuries -- a broken ankle and torn ligaments in his knee that had never entirely mended -- and his fever was likely the malaria he had contracted during his wartime imprisonment. But it may not be incorrect to assume that depression, or what was termed "melancholia" in the 19th century, played a part in Keogh's illness. Over Custer's objections the Captain was granted another month's leave, this time to visit Louisville, Kentucky, where he stayed at the home of Dr. John Arvid Ouchterlony -- a brilliant Swedish-born physician whom Keogh had befriended during Reconstruction duty. On October 14, 1875, Keogh returned to Fort Lincoln, and from that day until his death was present for duty with Custer and the 7th Cavalry.



Myles Keogh with three of the Martin girls in Auburn, New York, early 1870s. Emily and Nellie are standing, Lylie is seated.
Myles Keogh seems to have sensed that the 1876 campaign would be his last, and death was very much on his mind in the days preceding the 7th Cavalry's departure from Fort Lincoln. He gave copies of his will to several comrades, including Lieutenant Nowlan, and took out a $10,000 life insurance policy. Keogh also left a satchel of personal papers with Mrs. Eliza Porter, the wife of Company I's Lieutenant James Porter, and instructed her to burn them should he be killed. Finally Keogh wrote what would be his last letter to Nelly Martin, concluding:
"We leave Monday on an Indian expedition & if I ever return I will go on and see you all. I have requested to be packed up and shipped to Auburn in case I am killed, and I desire to be buried there. God bless you all, remember if I should die -- you may believe that I loved you and every member of your family -- it was a second home to me."


Perhaps the strongest testimony to Keogh's bravery and leadership ability came at Little Bighorn on June 25, 1876. The senior captain among the five companies wiped out with Custer that day, and commanding one of two squadrons within the Custer detachment, Keogh died in a "last stand" of his own, surrounded by the men of Company I. When the sun-blackened and dismembered dead were buried three days later, Keogh's body was found at the center of a group of troopers that included his two sergeants, company trumpeter and guidon bearer. The slain officer was stripped but not mutilated, perhaps because of the "medicine" the Indians saw in the Agnus Dei ("Lamb of God") he wore on a chain about his neck. Keogh's left knee had been shattered by a bullet that corresponded to a wound through the chest and flank of his horse, "Comanche," indicating that horse and rider may have fallen together prior to the last rally. The badly injured animal was found on the fatal battlefield, and nursed back to health as a regimental mascot.


No one felt Keogh's death more keenly than his surrogate family, the Martins of "Willowbrook." When the remains of Custer and his officers were exhumed in the summer of 1877, they saw to it that Keogh's remains were reinterred in the family plot at Auburn, where he had wished to be. "I trust we shall be able to carry out his desire," Evy Martin Alexander wrote, "& lay him to rest by the side of my dear little children, one of whom knew & loved 'Uncle Keogh' & was dearly loved by him."
This sentimental soldier of fortune was buried during a cold drizzle on the afternoon of October 25, 1877, followed to the grave by many who cared for him. Their thoughts were typified by Andrew Alexander, who said of his old comrade: "A hero in battle, he was as tender as a woman to those he loved. . . . Those who had the honor of his friendship will mourn his loss as long as they live." Keogh's elegant memorial stone bears the record of his military service and a fitting epitaph from the pen of poet Bayard Taylor:
Sleep soldier!
Still in honored rest
Your truth and valor wearing
The bravest are the tenderest
The loving are the daring.


Write a message on the grave of the Irish Knight


Berkeley, G.F.H. "The Irish Battalion in the Papal Army of 1860." Talbot Press Ltd., Dublin and Cork, 1929.
Hammer, Kenneth. "Men With Custer: Biographies of the 7th Cavalry." Hardin, MT, Custer Battlefield Historical & Museum Association, 1995.
Hayes-McCoy, G.A. "Captain Myles Walter Keogh, United States Army, 1840-1876." National University of Ireland, Galway, 1965.
Langellier, J.P., Cox, K.H. and Pohanka, B.C., eds. "Myles Keogh: The Life and Legend of an Irish Dragoon in the Seventh Cavalry." Upton & Sons Publishers, El Segundo, CA, 1991; 2d edition, 1998.
Lawrence, Elizabeth Atwood. "His Very Silence Speaks: Comanche -- The Horse Who Survived Custer's Last Stand." Wayne State University Press, Detroit, 1989.
Myres, Sandra L,, ed. "Cavalry Wife: The Diary of Eveline M. Alexander. 1866-1867." Texas A & M University Press, College Station and London, 1977.
Snedeker, Lenora. "Memories at Willowbrook." Oxford, NY, 1995.
Taunton, Francis B. "The Man Who Rode Comanche." The English Westerners Society, London, 1965.
Utley, Robert M., ed. "Life in Custer's Cavalry." Yale University Press, New Haven and London, 1977.