The untold story of how a LBHA member tried to fool the famous Custer association to favor Custer haters
DIRTY LITTLE SECRETS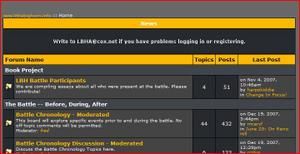 Here are the facts which the Administrator of lbh.info (Diane Merkel, from Florida), has not made public over her falling out with the famous Custer association The Little Big Horn Associates.

While her husband Chuck was president of the Board of Directors, she was authorized by the Board Of Directors to create an official website for the LBHA including the message board. This she did. However, she secretly and deceitfully registered the site to herself, when it should have been registered to the LBHA. She had no right to do this, and she kept this fact a secret from the rest of the Board of Directors.

This site remained the official site of the LBHA for 2 years, until Diane decided to "hijack" the entire website and message board after the Board Of Directors voted to curtail her dictatorial and abusive powers as moderator. She has effectively stolen the LBHA own website due to her machiavellian manipulations.

She is now engaged in a public relations war with the current Board of directors of the LBHA, whereby she portrays herself falsely as the savior of the message board, which she falsely claims the Board Of Directors wants to destroy.

Right now, Diane Merkel can get away with this spin, as she has complete dictatorial control over this message board and anyone who dares to challenge her on it will be abruptly terminated.

It explains why so many Custer buffs, who did not want to support her constant Custer-bashing and favorable policy towards Custer haters, have been banned from the Message Board.