Numerous Trading Posts accept insulting T-Shirts on General Custer
RADICAL T-SHIRTS

These T-Shirts are all proposed to tourists less than one mile from the battlefield. If this is acceptable, custerwest.org asks for the same garbage on the American Indian side.
-
note : there wer other T-shirts much more offensive, but the websites of the Trading Posts deleted them in 2008 after the report of #Custer Hatred Watch#. Please let us know if these artefacts are still on display in the shops -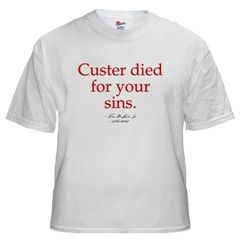 The old anti-semitic propaganda (blood on your generations) put on American shoulders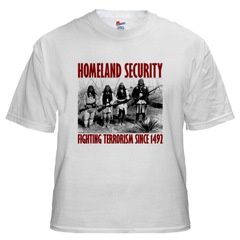 This very clever T-Shirt links the US cavalry with today Islamic terrorists.

Message by a Trading Post to custerwest.org, January 28, 2008

Dear Sir,
Thank you for writing. Our front page items simply rotate through the inventory. We strive to respect the many view points of the Little Big Horn.
It is our goal to not take sides when it comes to what happened at the Little Big Horn and respect all cultures. I appreciate you writing to express your thoughts.
Best Regards,
Custer Battlefield Trading Post