Custer and Tullocks Creek
Another myth of the Little Bighorn
CUSTER AND
TULLOCKS CREEK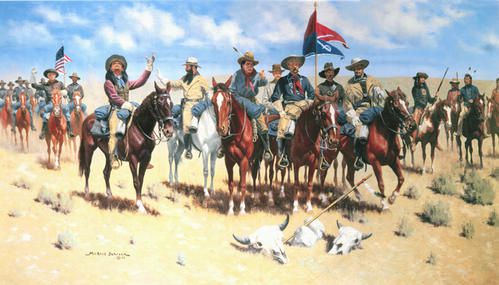 source: Colonel William Graham, The Custer Myth, page 131


In the movie "Son of the Morning Star", as well as in many articles and books, it is said that Custer neglected to scout Tullocks Creek and gave therefore a proof that he wanted to speed his regiment up and gain a victory for himself.

Scouting Tullocks Creek was noted in General Terry's orders:

"The Department Commander desires that on your way up the Rosebud you should thoroughly examine the upper part of Tullock's Creek"

Did Custer neglect this order? No. Tullocks Creek had his full attention.

Lieutenant Godfrey: "The march during the day was tedious. We made many long halts, so as not to get ahead of the scouts, who seemed to be doing their work thoroughly, giving special attention to the right, toward Tulloch's Creek, the valley of which was in general view from the divide. Once or twice signal smokes were reported in that direction, but investigation did not confirm the reports."

The "Tullocks Creek controversy" was another hoax to push the "Custer the Reckless commander" agenda.