The Black Kettle propaganda
The story of an intensive propaganda on a notorious Cheyenne terrorist
"BLACK KETTLE WAS PEACEFUL"
SWALLOW THIS LIE AND SHUT UP!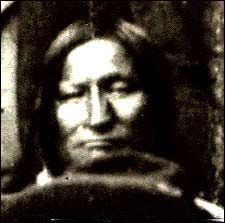 "I just read in an Indian depredation claim I copied from the National Archives last summer that Black Kettle was understood by everyone in 1868 as being a spy for the raiding Indians. He would profess peace and all the time he was gathering information he would later share with the Dog Soldiers to assist them in their raids, etc."

Dr. Jeff Broome, author of the very important book "Dog Soldier Justice" (Kansas Historical Society, 2003), the most accurate depiction of the Indian massacres of 1868.

"Some of the raiders came from Black Kettle's camp. As was the case on numerous previous occasions, his village was open to terrorists. When the raiders returned, Black Kettle made a run south of the Arkansas River."

Famous Old West historian Gregory Michno, author of "Lakota Noon" and recently "A Fate Worse than Death" which relates the captivities under Black Kettle's reign. Wild West magazine, December 2005

"Black Kettle may have been considered a "peace chief," but he was never averse to harboring warring Indians and holding captive white women and children."

Gregory F. and Susan Michno, A Fate worse than death, Caxton Press, 2007, page 152


"... 158 men murdered, sixteen wounded and forty-one scalped. 3 scouts were killed, 14 women outraged, 1 man was captured, 4 women and 24 children were carried off."

Chronicles of Oklahoma, events of the summer 1868, Volume 2, No. 4, December, 1924


---
The propaganda: "As white settlers poured into the west during the nineteenth century, many famous Indian chiefs fought to stop them, including Sitting Bull, Crazy Horse, and Geronimo. But one great Cheyenne chief, Black Kettle, understood that the whites could not be stopped. To save his people, he worked unceasingly to establish peace and avoid bloodshed. Yet despite his heroic efforts, the Cheyennes were repeatedly betrayed and would become the victims of two notorious massacres, the second of which cost Black Kettle his life."

This is how Thomas Hatch's hagiography of Cheyenne Chief Black Kettle, "The Chief who sought peace but found war", began. Do facts support this divine portrait? No. Not at all. From the events preceding the Sand Creek massacre to the Battle of the Washita, Black Kettle has never ceased to train and harbor terrorists. He also used to capture women and children who were gang raped and eventually murderded or sold to Mexicans.
On the "Battle of the Washita" section of custerwest.org, you can look at the evidence prior to the fight of 1868. Black Kettle's headmen were leading the raids and took back to their camp numerous White hostages. The same massacres happened in 1864, prior to Chivington's attack at Sand Creek.
____
Little Rock, member of Black Kettle's village, interview, August 19, 1868: "The Cheyennes numbered about 200; nearly all the young men in the village went (…) The two Indians had outraged the woman before they brought her to the camp. (…) Big Head's son knocked (an isolated white man) down with a club. (…) Soon after they killed a white man, and close by, a woman (…) After they had proceeded some distance up thr Saline, the party divided, the majority going north toward thr settlements on the Solomon (…) Another small party returned to Black Kettle's village, from which party I got this information."

source: "Report of an interview between E. W. Wynkoop, US Indian Agent, and Little Rock, a Cheyenne Chief Held at Fort Larned, Kansas, August 19, 1868, Bureau of Indian Affairs, Cheyenne and Arapho Indians.
On these massacres : Stan Hoig, The Battle of the Washita, University of Nebraska Press, 1970, pages 49-51; George A. Custer, My Life on The Plains, University of Oklahoma Press, pages 153-156; Jerome Greene, Washita, University of Oklahoma Press, 2004, pages 52-53

- The massacres of 1868 on custerwest.org - click here
____

There is absolutely no evidence to support the claim that Black Kettle was peaceful or innocent. None of his actions supported this idea. The Cheyenne chief used to kill settlers, abduct hostages and then ask for peace before the winter season. Evidence of his guilt are overwhelming, and even supported... by Black Kettle's own claims.



However, as of today, Black Kettle is virtually praised by the entire - and ignorant - American nation. The National Park Service named a controversial museum after him on the Washita Battlefield. Worse, the chief gained the posthumous title of "Peace Chief".
Custer historians have left the building, while countless authors and filmmakers, tried every tactic possible to say that the Chief is not accountable for anything. It was said that in Indian customs, welcoming warriors who had just slaughtered civilians wasn't a proof of complicity.
____
Edmund Guerrier, mix-blood civilian: "I was with the Cheyenne Indians at the time of the massacre of the Solomon and Saline Rivers, in Kansas, the early part or middle of last August, and I was living at this time with Little Rock's band (Little Rock and Black Kettle led the same band). The war party (of 200 Cheyennes and 4 Arapahoes) who started for the Solomon was composed of young men of Little Rock's, Black Kettle's (all from Black Kettle's village), Medicine Arrow's and Bull Bear's bands (...) Red Nose, and The Man Who Breaks The Marrow Bones, (Ho-eh-a-mo-a-ha) were the two leaders of the massacre; the former belonged to the Dog Soldiers, and the latter to Black Kettle's band."

source: Richard G. Hardorff., Washita Memories, Norman, University of Oklahoma Press, page 52

- Black Kettle's massacres on custerwest.org - click here
____

Raping women, abducting children, slaughtering civilians and harboring terrorists aren't crimes as long as they are done by Cheyennes or any Indian warriors or chief. Black Kettle gained the Gandhi title and American historians whitewashed his bloody record without respect for historical truth.

In his book "The Battle of the Washita" (1970), Stan Hoig nicknamed the chapter of Indian depredations : In Search of an Enemy. This is a typical semantic form used by those who think that victims of terror are more responsible of their death that the ones who killed them. By pretending that the US army was happy to see Cheyennes murdering civilians in Kansas, Hoig puts the responsability of the war on American shoulders.

Pure academic fraud.

Worse, Hoig put on his fourth cover that the Cheyennes were not at war, despite the fact that an entire chapter is relating to the massacres that they commited.

____
General Sherman: "Americans cannot be humbugged into the belief that Black Kettle's camp was friendly with its captive women and children, its herds of stolen horses and its stolen mail, arms, powder, etc., trophies of war."

source: Gregory F. Michno., Chief Black Kettle, Wild West magazine, December 2005

- The massacres of 1868 on custerwest.org - click here
____

In "Washita" (2004), Historian Jerome Greene relates the "Summer depredations" in an entire chapter, quoting several witnesses who explicitely said that Black Kettle was involved in the massacres. Little Rock, of Black Kettle's tribe, even described in an interview the precise crimes that were commited. However, Greene continues to praise Black Kettle through the book, put the Cheyenne chief with the "peaceful tribes" and put the massacre on the shoulders of a few "young men" (the "young men" argument, which doesn't mean anything, is always used to whitewash an Indian bloody record). Of course, Greene also manages to make us believe that Black Kettle wasn't holding hostages (lie) and wasn't responsible of anything (the naive, innocent Cheyenne was not aware that his village was a terror base!).

____
Clara Blinn, 19 years old, Black Kettle's hostage (letter written in captivity, November 7, 1868, before the Cheyennes shot her and smashed her baby against a tree): "Kind Friends, whoever you may be: I thank you for your kindness to me and my child. You want me to let you know my wishes. (...) If it is not far from their camp, and you are not afraid to come, I pray that you will try. They tell me as near as I can understand, they expect traders to come and they will sell us to them. Can you find out by this man and let me know if it is white men? If it is Mexicans, I am afraid they would sell us into slavery in Mexico."

source: letter by Clara Blinn
On Clara Blinn: Stan Hoig, The Battle of the Washita, University of Nebraska Press, 1970, page 212; Greene, Washita, University of Oklahoma Press, page 255, note 28; Gregory F. Michno, A Fate Worse than death, Caxton Press, 2007, page 152

- Clara Blinn's martyrdom and the other hostages on custerwest.org - click here
____

The propaganda goes on. Thomas Hatch praised Black Kettle and sang the "young men" song all over again. In 2007, Richard Hardorff called Black Kettle "the best friend the Whites had ever had" and didn't pay attention to the Indian depredations or the White hostages.

____
William Corbett, Northeastern University (in Encyclopedia of Indian wars, 2007, "Battle of the Washita"): "Also, Indians murdered Clara Blinn, a white captive, and her young son during the attack."

source: David J. Wishart (ed), Encyclopedia of the Great Plains Indians, University of Nebraska Press, 2007, page 217
- White hostage Clara Blinn's name is used as a trademark by a Cheyenne art gallery, not far from the spot when she was starving, probably gang raped and eventually murdered with her baby (watch the video below). Black Kettle is however honored by the US National Park Service with a museum and constant praises (and the title of "Peace Chief"). -

Who will speak out to defend the victims?



- Clara Blinn's martyrdom and the other hostages on custerwest.org - click here