new video + Tom's forgotten son
custerwest video: tribute to Tom Custer + the Story of Tommy C. Custer, Tom Custer's son.
ANOTHER CUSTER



"This young man, however, does not appear to be the only child supposedly fathered by Tom. Northwestern Ohio is rife with stories of Tom's sexual escapades and progeny. Libbie in her writings makes allusions to Tom jumping "from flower to flower" during this summer."
Carl F. Day, Tom Custer: Ride To Glory, Norman, University of Oklahoma Press, 2005, page 101

"Colonel Tom used to pay visits of an unconscionable length to ladies of the garrison, and no amount of teasing on his brother's part would induce him to shorten them. (Tom) never knew, when he started to go home from these visits, but that he would find on the young lady's door-mat his trunk, portmanteau, and satchel – this as a little hint from the general that he was overtaxing the lady's patience." Libbie Custer

Article by Mark Miner



Thomas C. 'Tommy' Custer was born in either 1870 or 1871 near Tontogany, Wood County, OH, the son of Civil War hero Thomas Ward Custer and Rebecca Minerd, who were not married. Tommy's father and uncle, General George Armstrong Custer, were killed together at the Battle of Little Big Horn when Tommy was but a boy.
Custer experts have noted the close facial resemblance between son and father. This is a copy made from an original tintype found in the old photo album of one of Tommy's first cousins.
The story of Tommy and his parents was the subject of our 2002 National Minerd-Miner-Minor Reunion, and a lecture at the 2003 Great Lakes Conference of the Little Big Horn Associates. As well, he is pictured and mentioned in a 2002 biography of his father, Tom Custer: Ride to Glory, by Carl F. Day, available on Amazon.com.
Family lore has been passed down that Tommy's parents were married, but there is no documentation to support this. Rather, research findings show that Tommy's grandparents were neighbors in both Harrison County, Ohio, and later in Wood County, OH. Evidence suggests that while Tommy's father was on military leave, he became involved in an intimate relationship with Rebecca. Sometime between 1866 and 1871, Rebecca Minerd gave birth to a son, whom she named "Thomas C. Custer."

The exact year of Tommy's birth is not known. One source, his obituary, implies it was 1866. Another source, the federal census of 1880, suggests it was 1870 or 1871.
Perhaps ostracized in her family or the neighborhood, Rebecca did not raise the child, but her parents
did so. Indeed, the 1880 census of Washington Twp., Wood County, OH shows that in the household of Samuel and Susanna Minerd was "Thomas Custar," their 9-year-old "grandchild." The entry shows that young Tommy had attended school within the year, and that both of his parents had been born in Ohio. Depending on his exact birthdate, he conceivably could have turned 10 later in the year.
There is no evidence that the father ever knew the son, or that the Custers ever acknowledged the boy. While father Tom wrote a will in 1873, in Monroe, MI, he did not name the son, and left everything to a fiancee and to his mother. In Tom's Civil War pension papers, on file at the National Archives in Washington, DC, the boy is not identified in any way. In 1890, when Tommy's grandmother (Susanna Minerd) gave a deposition in the legal case, Tommy
signed the document as a witness.


The Benn Perspective


On Feb. 11, 1892, Tommy wed his longtime neighbor, Addie Viola Benn, the daughter of William H. and Martha (Brown) Benn. Their marriage license today is still on file at the Wood County Courthouse in Bowling Green.
The Benns' 40-acre farm was to the east of the Minerd cluster of farms, along the railroad, just 200 feet from where George and Tom Custer's brother, Nevin J. Custer, was living in 1886. At the time, Nevin was an absentee owner, residing in Monroe, but certainly he would have had to have known Tommy and his wife.
William Benn, Addie's father, also was a veteran of the Civil War. He had served with the 144th OH Infantry, the same regiment as cousins of Tommy's mother, Eli and Isaac Van Horn. An examination of Benn's Civil War pension papers in 2003 at the National Archives in Washington, DC are revealing. While they do not make any reference to Tommy as Benn's son in law, they do contain a page with Addie's signature as a witness -- "Addie V. Custer."
Benn's Civil War files also contain affidavits from many longtime neighbors who also would have known all about Tommy's family secrets. These neighbors include Hester McComb (who claimed in 1897 to have been "well and intimately acquainted" with the Benns for "about 30 years and during that time ... have lived as near neighbor to them and their family..."). Other neighbors circa 1897-1898 were Martin Warner (38 years); John Q. Adams (37 years); Lewis Hoelzer (from boyhood - 25 years); Jacob Danster (38 years); Elizabeth Danster (40 years); I.B. Van Valkenberg (33 years); Christie A. Cummings (35 years); Perkins Garrett (20 years); and Eli F. Mozena (17 years).


Tommy's Working and Social Life

Petroleum was discovered in quantity in Wood County in 1885. Unfortunately, the oil "had intractable quality problems that threatened to destroy its value,"writes Ron Chernow in his national bestseller, Titan: The Life of John D. Rockefeller Sr. "[Its] high sulfur content corroded machinery and gave off a deadly smell."
It was in this booming environment that Tommy labored in northwest Ohio fields as an "oil operator,"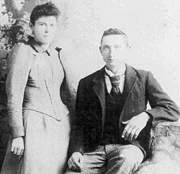 said Beers' 1897 Commemorative Historical and Biographical Record of Wood County, Ohio.
According to the Commemorative Record, in the year 1895 alone, there were nearly 1,800 new wells in operation in the county: "[T]he driller was at work day and night, and derricks appeared everywhere..."
Tommy also was a member of the John B. Creps Camp, Tontogany, Sons of Veterans No. 61, Division of Ohio (later renamed the Sons of Union Veterans of the Civil War). The S. of V. was a spinoff of the Grand Army of the Republic (GAR) organization. Tommy's membership is further evidence that his father was an acknowledged veteran of the Civil War, that Tommy knew this fact, and that this was accepted for him to gain membership.
According to the S. of V. website:
In 1881 the GAR formed the Sons of Veterans of the United States of America (SV) to carry on its traditions and memory long after the GAR had ceased to exist. Membership was open to any man who could prove ancestry to a member of the GAR or to a veteran eligible for membership in the GAR.
Tommy and Addie were married for only a few short years. They resided in or near Tontogany.
Tontogany's dirt-paved Main Street of that era is seen here in a rare old photographic postcard (published by Dr. A. Eddmon of Tontogany). Note the railroad tracks in the foreground, and the telephone or electrical poles on both the left-hand and right-hand sidewalks.
Addie and Tommy suffered a major blow on April 25, 1895 when Addie's father passed away at home. She was to receive an even greater tragedy a year later.
On Aug. 1, 1896, suffering from typhoid fever, Tommy passed away. He was only about 25 years of age. The funeral was held at the local Presbyterian Church, possibly led by Rev. C.L. Herald, who had officiated at the funeral of Addie's father a year earlier. Tommy's remains are believed to have been laid to rest in the Union Hill Cemetery east of Tontogany. While his grave is not marked, he quite likely may have been buried in the Minerd plot beside his beloved grandmother, Susanna Minerd.
Tommy's obituary was published in the Wood County Sentinel, dated Aug. 7, 1896. Of the documents found to date, it is the most compelling evidence of Tommy's lineage:


Nephew of Gen. Custer Dead.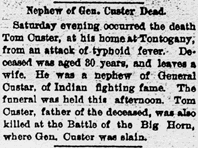 Saturday evening occurred the death Tom Custer, at his home at Tontogany, from an attack of typhoid fever. Deceased was aged 30 years, and leaves a wife. He was a nephew of General Custar, of Indian fighting fame. The funeral was held on Monday. Tom Custer, father of the deceased, was also killed at the Battle of the Big Horn, where Gen. Custer was slain.

Six days later, the Sentinel reported: "The funeral of Thomas Custer was held on Monday … Mr. Custer was a very estimable young man with a large circle of friends, who deeply sympathize with his young widow in her sad bereavement."
According to a recent Bowling Green Sentinel-Tribune article, "There is no tombstone or sexton's record of him, only the wisp of a family memory of his widow visiting the cemetery." The article also says that "No birth or death records have been located… The records might have been misplaced, and also, 'illegitimacy at that time was hidden'…"
Tommy's friends in the S. of V. placed an advertisement in the Aug. 7, 1896 edition of the Bowling Green Daily Sentinel. It was entitled "On the Death of T.C. Custer," and the text contained a resolution of bereavement. Unfortunately, they produced no children, and thus have no descendants living today to tell their story.


Tom Custer's heroic Last Stand.