The duel: Weir vs Benteen after the battle
After Custer's Last Stand, Captain Weir (who had tried to support Custer) and Captain Benteen (who had betrayed him) hated each other almost to death.
BETRAYAL MEANT "BLOOD"

source: Larry Sklenar (from the US Department of Defense), To Hell With Honor, Custer and the Little Bighorn, highly recommended book, University of Oklahoma Press, 2000, page 31.


In the presence of about a dozen officers, Captain Benteen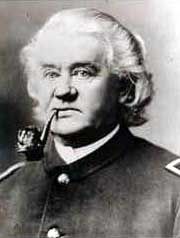 called Captain Thomas Weir "a damned liar" on the the Little Bighorn battle, and when Weir said that it meant "blood", Benteen invited him to select a pistol so that they could "spill the blood right here!"

Later, on meeting Benteen, Weir extended his hand, which confused Benteen, who nonetheless "had his accurate measure".


The battle of June 25, 1876, during two hours and a half :



Benteen-Reno forces : 380 men + 24'000 rounds of ammunition. Enemy : nobody.

Custer forces: 210 men. Enemy: 1'000-1'500 men.

Benteen-Reno casualties: 1 man.
Custer casualties: 210 men.